Delivering the Advantages of Half-Dose Myocardial Perfusion SPECT and High Image Quality

Download Our Brochure >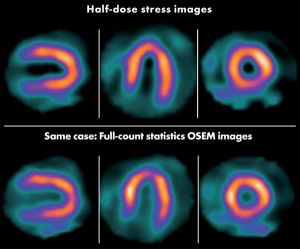 Based on exclusive WBRTM (Wide-Beam Reconstruction) technology from UltraSPECT®, Xpress.Cardiac delivers half-dose cardiac imaging with high image quality and undiminished diagnostic certainty.
The image resolution is equivalent to that of full-time imaging. Moreover, the images display higher Signal-to-Noise Ratio with improved background uniformity, and enable better visualization of endocardial borders and wall motion segments.
Half-dose scanning ensures minimized patient exposure to radiation, maximizing safety for patients and staff.
Xpress.Cardiac readily connects to most cameras and workstations. Robust, reliable and fully automatic, with a single processing protocol for all patients, it is virtually transparent to clinical work-flow.
Xpress.CardiacTM: Half-dose cardiac imaging with uncompromised clinical sensitivity and specificity.