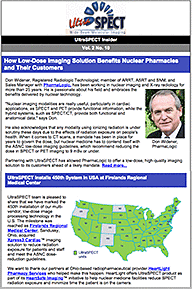 How Low-Dose Imaging Solution Benefits Nuclear Pharmacies & Their Customers
Don Widener, Registered Radiologic Technologist, member of ARRT, ASRT and SNM, and Sales Manager with PharmaLogic, has been working in nuclear imaging and X-ray radiology for more than 25 years. He is passionate about his field and embraces the benefits delivered by nuclear technology.
"Nuclear imaging modalities are really useful, particularly in cardiac applications, as SPECT and PET provide functional information, while the hybrid systems, such as SPECT/CT, provide both functional and anatomical data," says Don.
He also acknowledges that any modality using ionizing radiation is under scrutiny these days due to the effects of radiation exposure on people's health. When it comes to CT scans, a mandate has been in place for years to govern the dose, but nuclear medicine has to contend itself with the ASNC low-dose imaging guidelines, which recommend reducing the dose in SPECT or PET imaging to 9 mSv or under.
Partnering with UltraSPECT has allowed PharmaLogic to offer a low-dose, high-quality imaging solution to its customers ahead of a likely mandate.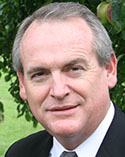 "The primary value our customers get from using a low-dose imaging technology is that they cut radiation exposure to the patient in half," says Don. "Technologists are also exposed to a lower dose, and once they get used to seeing the kind of images they get with the software, they stick with it. The other alternative for them is to acquire updates to cameras but they are very expensive."
According to Don, the imaging capabilities of Xpress.Cardiac and Xpress3.Cardiac are particularly impressive when it comes to patients with difficult body habitus. Don has been educating his customers about the benefits of this low-dose option since the partnership was formed in 2013.
In addition to helping its customers lower radiation exposure for patients and staff, PharmaLogic was able to reduce the amount of exposure to the often volatile Molybdenum-99/Technetium-99m market or, in other words, become less dependent on the suppliers, particularly in times of shortage. At the same time, the reduced demand for radiopharmaceuticals allowed PharmaLogic to use fewer generators after partnering with UltraSPECT.
"We have a commitment to excellence in the industry, and the partnership with UltraSPECT allows us to provide a low-dose and high-quality cardiac image solution benefitting everyone in the process," says Don.
---
UltraSPECT Installs 450th System in USA at Firelands Regional Medical Center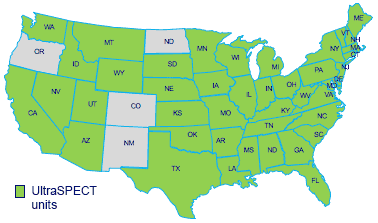 Map caption: After nearly 10 years of delivering low-dose imaging software to nuclear medicine practices and hospitals across the U.S., UltraSPECT is proud to be in almost every state!
UltraSPECT team is pleased to share that we have marked the 450th installation of our multi-vendor, low-dose image processing technology in the U.S. The milestone was reached as Firelands Regional Medical Center, Sandusky, Ohio, acquired Xpress3.Cardiac™ imaging solution to reduce radiation exposure for patients and staff and meet the ASNC dose-reduction guidelines.
We want to thank our partners at Ohio-based radiopharmaceutical provider HeartLight Pharmacy Services who helped make this happen. HeartLight offers UltraSPECT product as part of its HeartSafe Imaging™ initiative to help nuclear medicine facilities reduce SPECT radiation exposure and minimize time the patient is on the camera.
"Partnering with UltraSPECT allowed us to help our customers deliver a low-dose cardiac imaging solution," said Laura Meyer, Sales and Marketing Manager, HeartLight Pharmacy Services. "Firelands Regional Medical Center is now providing the reduced dose and reduced scan time tests, making the imaging service safer for both patients and staff, and that can be seen as a true differentiator in the marketplace. Once customers implement an UltraSPECT solution, they really like the technology. Additionally, one of our customers improved their radiation dosimetry badge readings by as much as 40%."
"As we reach this important milestone after nearly 10 years since the first UltraSPECT unit was installed, our team reflects on nuclear medicine's vital role in cardiac and bone diagnostics and how important radiation safety is to the technologist and patient," said Yossi Srour, President and CEO, UltraSPECT. "Our partnership with radiopharmaceutical suppliers such as HeartLight Pharmacy Services is crucial to the successful adoption of low-dose imaging solutions by hospitals and practices that strive to deliver better care to their patients."
HeartLight Pharmacy is a full-service nuclear pharmacy supplying unit dose and bulk radiopharmaceuticals to hospitals and clinics providing their patients with efficient, convenient, and cost-effective nuclear medicine procedures. It has locations in Lima, Columbus and Dayton, Ohio. Eric H. Schaaf, R.Ph. is the founder of HeartLight and a fourth-generation pharmacist whose family has owned and operated a retail pharmacy for over 85 years.
The Heart Center at Firelands Regional Medical Center offers a broad range of advanced cardiac services, including nuclear cardiology scans. It is accredited in heart failure and is an American Heart Association Mission Lifeline heart attack referral center, as well as a certified chest pain center.
---
Didn't Make It to the RSNA? Here's the Scoop!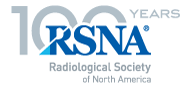 This year, the RSNA guests gathered for the 101st annual meeting in Chicago to discuss and celebrate technological progress, particularly in a few innovative modalities. Speaker Jeffrey Immelt, GE Chairman and CEO, also called on the industry to move away from creating technology just for the sake of technology. "Innovation must deliver more than a new device; it must deliver real outcomes for our patients," said Immelt.
When it came to the new molecular imaging technologies at the RSNA, the discussions focused mainly on PET/MR systems. The solutions combine functional imaging by PET and structural/anatomical imaging by MRI. This emerging modality improved a wide range of clinical applications, including brain and breast imaging, evaluation of neurology diseases, and reaction to radiotherapy treatment. Additionally, Molecular Breast Imaging (MBI) and Breast Specific Gamma Imaging (BSGI) demonstrated a large body of clinical evidence emphasizing the importance of the modalities adjunct to mammography.
The new standard XR-29 pushes imaging practices to lower the radiation exposure to the point where dose will no longer be a topic of concern. Phase-contrast X-ray imaging (PCI) also has the potential to reduce the radiation dose and is likely to be the next new imaging method in clinical practice.
Speaking of imaging equipment, I must share my thoughts about the new Multitom Rax X-ray scanner by Siemens. Its robotic X-ray technology delivers an impressive combination of high asset utilization, natural real 3D, and less patient positioning.
Do you have questions or comments, or would you like to share your thoughts about these innovative modalities and equipment? We want to hear from you on our Facebook page!
---
Happy Holidays to the Nuclear Medicine Community!



Happy Holidays to all our friends in nuclear medicine and their families! We've had a terrific year full of achievements in 2015, including reaching our 450th installation in the U.S., starting our Facebook community and spreading the word about the benefits of safe, low-dose nuclear medicine imaging. Be sure to come back next year for even more informative and fun posts, suggestions, case studies and sweepstakes!