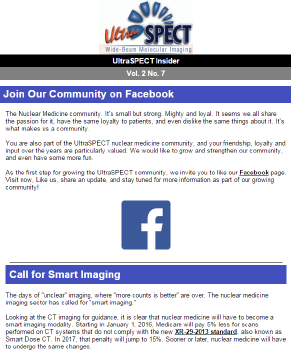 Join Our Community on Facebook
The Nuclear Medicine community. It's small but strong. Mighty and loyal. It seems we all share the passion for it, have the same loyalty to patients, and even dislike the same things. It's what makes us a community.
You are also part of the UltraSPECT nuclear medicine community, and your friendship, loyalty and input over the years are particularly valued. We would like to grow and strengthen our community, and even have some more fun.
As the first step for growing the UltraSPECT community, we invite you to like our Facebook page. Visit now, Like us, share an update, and stay tuned for more information as part of our growing community!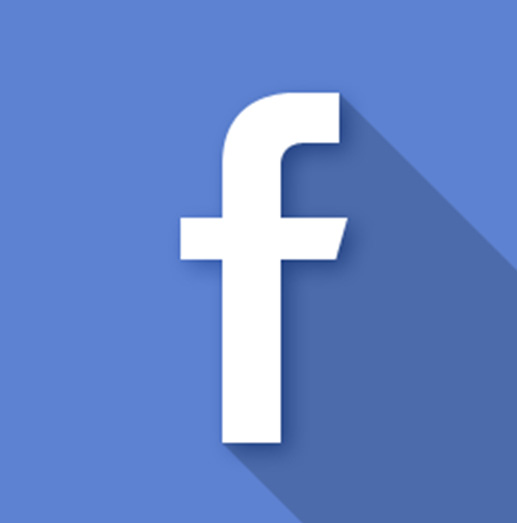 ---
Call for Smart Imaging
The days of "unclear" imaging, where "more counts is better" are over. The nuclear medicine imaging sector has called for "smart imaging."
Looking at the CT imaging for guidance, it is clear that nuclear medicine will have to become a smart imaging modality. Starting in January 1, 2016, Medicare will pay 5% less for scans performed on CT systems that do not comply with the new XR-29-2013 standard, also known as Smart Dose CT. In 2017, that penalty will jump to 15%. Sooner or later, nuclear medicine will have to undergo the same changes. As of today, new guidelines for CT protocols and radiation dose reporting are coming from every direction, from state laws to federal legislation, in addition to the American College of Radiology accreditation standards and the new Joint Commission accreditation standards mandating the Protecting Access to Medicare Act of 2014.
Along the same lines, nuclear medicine started with the American Society of Nuclear Cardiology (ASNC) guidelines, which came into effect January 1, 2014.
Added to the above list is the Physician Quality Reporting System (PQRS) program that encourages practices to report information on the quality of care to Medicare. PQRS gives practices the opportunity to assess the quality of care they provide and helps ensure that patients get the right care. As of 2015, the program applies a negative payment adjustment to noncompliant practices while those that report satisfactorily for the 2015 program year will avoid the 2017 PQRS negative payment adjustment.
Nowadays, the new Joint Commission CT accreditation standards cover all CT, PET/CT, and SPECT/CT exams; thus, one of the areas for evaluation by the Commission is the nuclear medicine practice. The above trends emphasize once again that, sooner or later, nuclear medicine will have to comply. It also indicates the potential of the UltraSPECT solution for helping nuclear medicine practices to comply with the growing demands for smart imaging.
---
No One Achieves Success Alone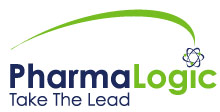 UltraSPECT highly values partners that embrace our passion and commitment to safer imaging. This month, we'd like to highlight our successful partnership with PharmaLogic, a group of radiopharmacies located in the Northeast and Western United States.
Pharmalogic is a leading provider of nuclear medicine radiopharmacy services and solutions for use in diagnostic imaging and radiopharmaceutical therapies. It prepares and delivers patient-specific doses ready to administer with exceptional on-time delivery performance despite unpredictable environmental elements or other outside factors. In addition to unit dose services traditionally provided by nuclear pharmacies, PharmaLogic offers a unique suite of solutions addressing the dynamic challenges facing the nuclear imaging market in the future. Utilizing a customer-centric approach, PharmaLogic adapts its services to the specific operational needs of their customers.
In mid-2013, PharmaLogic and UltraSPECT joined forces in the efforts to help nuclear medicine laboratories deliver better care to their patients. Under the agreement between the two parties, PharmaLogic offers UltraSPECT WBR software product as part of its patient-centered approach. Since then, PharmaLogic has successfully approached dozens of nuclear medicine imaging facilities offering UltraSPECT product as part of its supply agreement. Close to 50 UltraSPECT systems were successfully installed and utilized by PharmaLogic customers while improving patient care and safety, as well as offering higher diagnostic capabilities, higher efficiency and laboratory throughput.
"When we present the UltraSPECT solution, healthcare facilities are amazed at everything they can achieve — significantly reduced patient radiation exposure, improved patient throughput, no need for expensive camera upgrades, and all this while maintaining the high-quality images cardiologists need for diagnostic accuracy. We believe these initial installations are just the start of a growing demand for the solution as all of our nuclear medicine customers see that everyone — from patients and technologists to physicians, pharmacies and pharmacy staff — will benefit," said Steve Chilinski, president and CEO, PharmaLogic.
"The successful adoption of low dose through PharmaLogic illustrates the benefits possible when the radiopharmaceutical supplier aligns efforts with patient care as the primary goal. Our relationships with radiopharmaceutical suppliers like PharmaLogic are critical in helping hospitals and practices to deliver better care to their patients and comply with the ASNC low-dose imaging guidelines," said Yossi Srour, president and CEO, UltraSPECT.