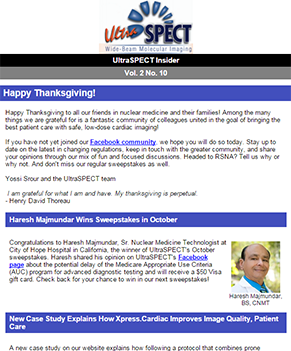 Case Study Highlights Benefits of Prone & Supine Imaging with WBR Solution
Happy Thanksgiving!
Happy Thanksgiving to all our friends in nuclear medicine and their families! Among the many things we are grateful for is a fantastic community of colleagues united in the goal of bringing the best patient care with safe, low-dose cardiac imaging!
If you have not yet joined our Facebook community, we hope you will do so today. Stay up to date on the latest in changing regulations, keep in touch with the greater community, and share your opinions through our mix of fun and focused discussions. Headed to RSNA? Tell us why or why not. And don't miss our regular sweepstakes as well.
Yossi Srour and the UltraSPECT team
"I am grateful for what I am and have. My thanksgiving is perpetual."
Henry David Thoreau
---
Haresh Majmundar Wins Sweepstakes in October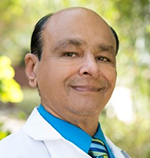 Caption: Haresh Majmundar, BS, CNMT
Congratulations to Haresh Majmundar, Sr. Nuclear Medicine Technologist at City of Hope Hospital in California, the winner of UltraSPECT's October sweepstakes. Haresh shared his opinion on UltraSPECT's Facebook page about the potential delay of the Medicare Appropriate Use Criteria (AUC) program for advanced diagnostic testing and will receive a $50 Visa gift card. Check back for your chance to win in our next sweepstakes!
---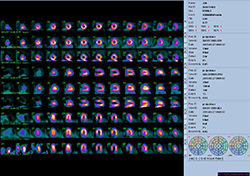 New Case Study Explains How Xpress.Cardiac Improves Image Quality, Patient Care
A new case study on our website explains how following a protocol that combines prone imaging with supine imaging while implementing UltraSPECT's Xpress.Cardiac solution helps Stephen A. Bloom, MD, and his colleagues at Midwest Heart & Vascular Specialists, Overland Park, Kansas, provide their patients with the highest possible level of cardiac care and patient experience.
"We favor 'proning' for the better, easier-to-interpret images it produces," Bloom said. "We started conducting studies this way before it became a standard practice and have been doing so for more than a decade."
---
Don't Be Solely Dependent on Radiopharmaceuticals in Your Practice
Did you know that the U.S. tops the global demand for both molecular imaging services and devices, according to "Molecular Imaging Market: Global Industry Analysis and Opportunity Assessment 2015-2025"? U.S. accounted for about one half of the global molecular imaging services and devices market in 2013.
At the same time, experts predict that there will be a shortage of molybdenum-99 isotope which, in turn, will lead to shortage of Technetium-99.
This is where UltraSPECT can help! UltraSPECT enables you to use half or even quarter of the regular dose, ensuring you can provide high-quality patient care without being wholly dependent on the availability of radiopharmaceuticals.
---
Hybrid PET/MRI for Oncologic Imaging Highlighted at RSNA
The annual Radiological Society of North America (RSNA) conference is quickly approaching – November 29 – December 4 in Chicago. The curriculum includes nuclear medicine sessions, with the focus on hybrid PET/MRI for oncologic imaging and an entire scientific session dedicated to this topic. Learn more at the RSNA Annual Meeting Preview page.
"Hybrid PET/MRI for oncologic imaging continues to be an active area of investigation with an entire scientific session dedicated to this topic," said Jonathan E. McConathy, M.D., Ph.D., chair of the Scientific Program Nuclear Medicine Subcommittee.
Are you attending RSNA? Let us know your plans at our Facebook community page!