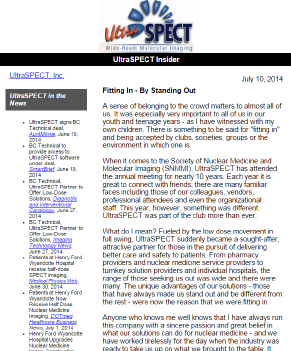 Fitting in - by standing out
A sense of belonging to the crowd matters to almost all of us. It was especially very important to all of us in our youth and teenage years – as I have witnessed with my own children. There is something to be said for "fitting in" and being accepted by clubs, societies, groups or the environment in which one is.
When it comes to the Society of Nuclear Medicine and Molecular Imaging (SNMMI), UltraSPECT has attended the annual meeting for nearly 10 years. Each year it is great to connect with friends; there are many familiar faces including those of our colleagues, vendors, professional attendees and even the organizational staff. This year, however, something was different. UltraSPECT was part of the club more than ever.
What do I mean? Fueled by the low dose movement in full swing, UltraSPECT suddenly became a sought-after, attractive partner for those in the pursuit of delivering better care and safety to patients. From pharmacy providers and nuclear medicine service providers to turnkey solution providers and individual hospitals, the range of those seeking us out was wide and there were many. The unique advantages of our solutions – those that have always made us stand out and be different from the rest – were now the reason that we were fitting in.
Anyone who knows me well knows that I have always run this company with a sincere passion and great belief in what our solutions can do for nuclear medicine – and we have worked tirelessly for the day when the industry was ready to take us up on what we brought to the table. It appears that the day has come for this revolution in nuclear medicine, and we are gratified to have the opportunity to work with so many of you, from coast-to-coast, to bring lower dose to your patients and staff.
Here's to the great things we will accomplish together!
Regards,
Yossi
UltraSPECT in the News
Low Dose News
In collaboration with the American Society of Nuclear Cardiology (ASNC) and in support of the organization's low-dose recommendations which took effect January 1, this year UltraSPECT created the first annual UltraSPECT Technologist Travel Awards. Applications were received from many technologists across the country that illustrated their participation and involvement within the ASNC community and made a case for how receiving the award would benefit their future.
We are happy to announce the six recipients who each received a $1200 stipend to fund their attendance at the 2014 ASNC annual meeting in Boston this September. The recipients of the UltraSPECT Technologist Travel Awards are:
Mark Hyun of Cedars Sinai Medical Center in Los Angeles, CA
Brian Kerr of Indiana Univ. Health/Goshen Hospital in Granger, IN
Haresh Majmundar of City of Hope in Duarte, CA
Susan Maxwell of UPMC Presbyterian in Pittsburgh, PA
Jeffrey Meden of Univ. of Michigan Health Systems in Ann Arbor, MI
Leon Lipkovich of New York Hospital Queens in Flushing, NY
Rosemary Nace of Lakenau Heart Institute of Schwenksville, PA
Congratulations! The work you have done in nuclear medicine and your dedication to the ASNC community is admirable. We look forward to meeting you in Boston!
Partnership Update
A new agreement with BC Technical will provide their customers with a great value in low dose and reduced acquisition protocols while expanding UltraSPECT's presence nationwide. The multivendor nature of the UltraSPECT portfolio; Xpress.Cardiac, Xpress3.Cardiac, and Xpress.Bone/Act.Bone, are a natural fit with offerings from BC Technical.

Founded in 1995, BC Technical, the largest nationwide, non-OEM provider of medical imaging solutions, has comprehensive expertise in all major OEM medical imaging systems including the latest PET, PET/CT, SPECT, SPECT/CT, CT and MR technologies. With lowering radiation exposure to patients and staff being a top priority for the company, BC Technical recently announced a partnership with UltraSPECT to leverage its software solutions and deliver lower dose that provides safety benefits to staff and improves clinical outcomes for patients.
To learn more about BC Technical, click here.
5 Questions with Dave Hollnagel
Meet the experienced team behind UltraSPECT. This month we introduce you to Dave Hollnagel, vice president of sales, who is putting his more than 25 years of industry experience to work to push forward cost-effective innovation and patient safety in nuclear medicine with UltraSPECT.
What has kept you in the nuclear medicine industry for more than twenty five years?
Nuclear Medicine is my passion. The people are extremely innovative and creative. While yes, you could say that about individuals in other specialties or different industries, to me - the drive and creativity in Nuclear Medicine is unique. They have always fostered a culture of innovation by continuing to push forward and remain on the cutting-edge of medicine.
Are there any individuals that you credit with inspiring you in your career?
At different parts of my career, I've had a number of people who have been instrumental to my growth and success. From both a clinical stand point as well as business perspective. I've been fortunate to have had a lot of great experiences in this industry with a number of incredible people. I am very appreciative of the opportunities that I've been involved with over the years.
What's one of the greatest lessons you've learned from all your time in the industry?
One lesson is that nothing stays the same – ever. Healthcare in general has been cyclic in some ways but is always dynamic. Appropriately handling change and anticipating the market is a skill that benefits business and the people we serve.
This ever-changing landscape is one of the reasons it's a great time for UltraSPECT. Healthcare organizations are dealing with more regulation, decreased reimbursement, and of course, a rocky economy. Such factors all have an impact on how organizations grow and make decisions on purchases for their imaging service lines. When considering ways to reduce patient and staff dose or increase throughput, UltraSPECT can offer a very cost-effective solution that solves these issues across any vendor's equipment. Additionally, it doesn't tie a facility to a specific vendor for future purchase considerations. This benefits our customers and differentiates UltraSPECT in the marketplace.
How is nuclear medicine evolving?
As we look for ways to improve imaging while lowering patient exposure, the issue in our industry has been the idea that 'counts are king.' The more counts you get, the better the image and therefore, it's implied that the diagnosis is more reliable. Once true but certainly no longer. Science and innovation have driven us to a point now where technology is enabling better images with less counts. It's human nature to be resistant to change. However, the nuclear medicine community recognizes the need for lower dose, especially with upcoming mandates to do so, and they are ready to move in that direction.
What is one of your passions outside of work?
Outside of work I spend a lot of time with my family and friends, as I'm sure a lot of people do. Something I also enjoy is long distance motorcycling on my Harley-Davidson. In the past, I've been very involved with Harley Owner's Groups and I continue to volunteer my time to the causes they support. When possible, I try to tie in a weekend of riding during business trips. Most larger cities have motorcycle rentals at the local Harley-Davidson Dealerships. It's great to see the country from the seat of a motorcycle. It's certainly a different perspective and a great stress reliever.