Seven nuclear medicine techs selected to attend the American Society of Nuclear Cardiology Annual Meeting in Boston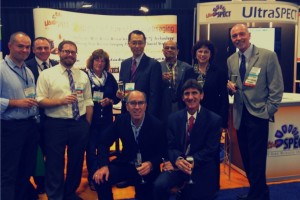 Auburndale, Mass., October 3, 2014 – UltraSPECT, provider of the only multi-vendor and most cost-effective solutions for meeting the American Society of Nuclear Cardiology (ASNC) low-dose guidelines, announces today the recipients of the first annual ASNC Technologist Travel Awards. Seven technologists received complementary conference registration and travel stipends to attend the 19th Annual Scientific Session of the American Society of Nuclear Cardiology (ASNC) in Boston, which started Thursday, September 18 and continues through Sunday, September 21.
The recipients are:
Mark Hyun, Cedars Sinai Medical Center in Los Angeles, CA
Brian Kerr, Indiana University Health/Goshen Hospital in Granger, IN
Haresh Majmundar, City of Hope in Duarte, CA
Susan Maxwell, UPMC Presbyterian in Pittsburgh, PA
Jeffrey Meden, University of Michigan Health Systems in Ann Arbor, MI
Leon Lipkovich, New York Hospital Queens in Flushing, NY
Rosemary Nace, Lakenau Heart Institute of Schwenksville, PA
"The commitment that these outstanding technologists have made to nuclear cardiology, their healthcare organizations and their patients is to be commended," said E. Gordon DePuey, MD, FASNC, director of Nuclear Medicine at St. Luke's-Roosevelt Hospital, New York, and ASNC President. "The role of the technologist is critical to nuclear medicine, and it is my hope that this group of seven leaders can inspire more of their fellow technologists to be involved in ASNC, and that we can continue this trend to provide the funding and opportunity for them to attend the ASNC annual meeting each year."
The seven recipients were selected for their leadership and involvement in the ASNC organization at both the local and national level. They are active speakers, researchers and consultants, who have investigated a range of topics including motion in imaging; multi-modality imaging; stress/rest protocols; and the issue of low dose for nuclear medicine.
"UltraSPECT is honored to have enabled these seven technologists to attend the ASNC meeting where they have the opportunity to learn from others about the advances in the industry and particular those related to lower dose and improved patient care," said Yossi Srour, President and CEO, UltraSPECT. "When it comes to patient care, it is critical to stay ahead of the curve and continually improve care through various means including the critical measure of lowering the dose."
The mission for dose reduction and safer imaging is as critical as ever, with not only the ASNC low dose imaging guidelines in effect as of January 1st, but also the CMS push towards quality over volume in healthcare in the coming months through the Physician Quality Reporting System (PQRS) program. A transition to quality in nuclear medicine equates to a transition to low dose.
To view images of the ASNC Travel Grant recipients, visit https://ultraspect.com/uncategorized/asnc-2014/.
For more information on UltraSPECT technologies and reducing dose in nuclear medicine, visit www.ultraspect.com or call 1-888-WBR-SCAN (1-888-927-7226).
About UltraSPECT:
UltraSPECT Inc. is a leading provider of image reconstruction products, dedicated to enhancing the performance of existing nuclear medicine gamma cameras and PET scanners. Based on proprietary, innovative reconstruction algorithms, UltraSPECT's Wide-Beam Reconstruction (WBR™) solutions shorten acquisition times, lower radiation dose and increases image resolution. Xpress.Cardiac™ enables rest/stress study acquisition with either half the radiopharmaceutical dose or half the scan time, compared to conventional acquisition techniques. Xpress3.Cardiac™ offers simultaneous reduced-dose and reduced-time imaging, supporting increased patient safety and comfort.
# # #
Media Contact:
Sourav Das, KNB Communications for UltraSPECT
203-504-8230 x131
[email protected]