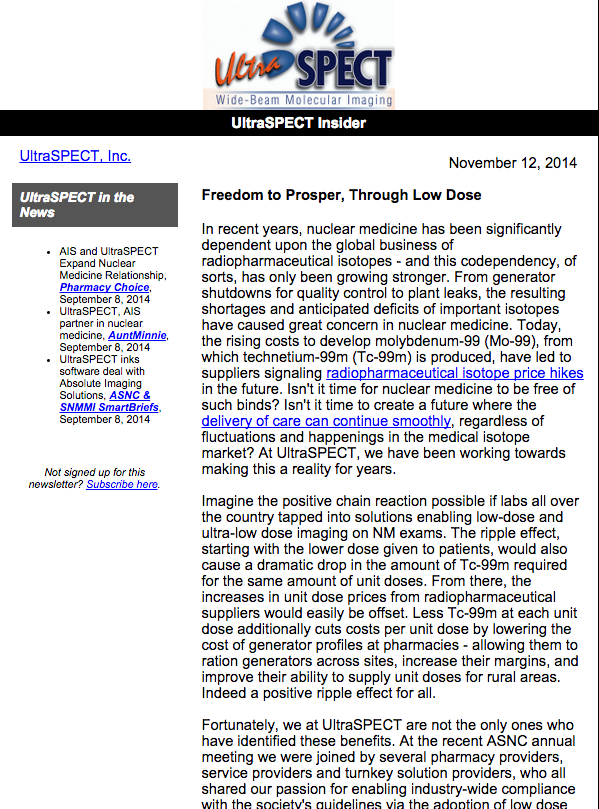 Freedom to Prosper, Through Low Dose
In recent years, nuclear medicine has been significantly dependent upon the global business of radiopharmaceutical isotopes – and this codependency, of sorts, has only been growing stronger. From generator shutdowns for quality control to plant leaks, the resulting shortages and anticipated deficits of important isotopes have caused great concern in nuclear medicine. Today, the rising costs to develop molybdenum-99 (Mo-99), from which technetium-99m (Tc-99m) is produced, have led to suppliers signaling radiopharmaceutical isotope price hikes in the future. Isn't it time for nuclear medicine to be free of such binds? Isn't it time to create a future where the delivery of care can continue smoothly, regardless of fluctuations and happenings in the medical isotope market? At UltraSPECT, we have been working towards making this a reality for years.
Imagine the positive chain reaction possible if labs all over the country tapped into solutions enabling low-dose and ultra-low dose imaging on NM exams. The ripple effect, starting with the lower dose given to patients, would also cause a dramatic drop in the amount of Tc-99m required for the same amount of unit doses. From there, the increases in unit dose prices from radiopharmaceutical suppliers would easily be offset. Less Tc-99m at each unit dose additionally cuts costs per unit dose by lowering the cost of generator profiles at pharmacies – allowing them to ration generators across sites, increase their margins, and improve their ability to supply unit doses for rural areas. Indeed a positive ripple effect for all.
Fortunately, we at UltraSPECT are not the only ones who have identified these benefits. At the recent ASNC annual meeting we were joined by several pharmacy providers, service providers and turnkey solution providers, who all shared our passion for enabling industry-wide compliance with the society's guidelines via the adoption of low dose imaging. We also agree that it can't be done single handedly; we must join forces. Considering the growing concerns over price increases and frequent shortages in Tc-99m, we must work together in order to lower the dependence of the entire NM market on Mo-99 supply. I look forward to moving this from our talks in Boston to actions to now be implemented.
In other news from the ASNC annual meeting, we launched our new UltraSPECT website. The new site offers sleek navigation across a variety of case studies, high-resolution images via Wide-Beam Reconstruction™ and much more – all showcasing the value proposition and ROI of our solutions from the standpoints of hospitals and radiopharmaceutical suppliers. Be sure to check it out and let me know what you think.
It continues to be a busy 2014 for us, and we hope you'll join us on the ride as we create a new standard in nuclear medicine built on low dose imaging.
Regards,
Yossi
UltraSPECT in the News
AIS and UltraSPECT Expand Nuclear Medicine Relationship, Pharmacy Choice, September 8, 2014
UltraSPECT, AIS partner in nuclear medicine, AuntMinnie, September 8, 2014
UltraSPECT inks software deal with Absolute Imaging Solutions, ASNC & SNMMI SmartBriefs, September 8, 2014
Partnership Update
Nuclear Diagnostic Products of Philadelphia, Inc. (NDP), a leading radiopharmaceutical supplier, has long been committed to supporting their customers' mission of providing patients with the best care. Dedicated to delivering the safer and highest quality diagnostic and therapeutic radiopharmaceuticals to customers, NDP found UltraSPECT's solution to be the most cost effective solution to achieve safer imaging with less exposure to radiation for patients and staff.
Having worked together for several years, NDP continues to provide UltraSPECT's solutions as part of the company's supply agreements. The partnership with UltraSPECT also enables their customers to comply with the American Society of Nuclear Cardiology (ASNC) low-dose guidelines. Considering NDP's strong understanding of its customers' daily practices and needs, the company also identified the benefits safe imaging via UltraSPECT could bring their customers in terms of ability to cope with Mo-99 and Tc-99m supply issues, regardless of generator shutdowns or shortages in the global radioisotope market.
To learn more about Nuclear Diagnostic Products of Philadelphia, Inc., click here.
ASNC/UltraSPECT Technologists Travel Awards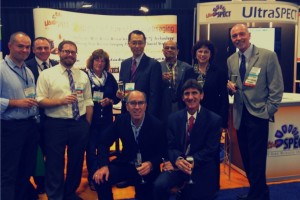 At the 2014 ASNC Annual Meeting we were very excited to meet and celebrate with the recipients of the UltraSPECT Technologists Travel Awards.  We were honored to have provided – for the first time – the opportunity for these seven technologists to benefit from an all-expenses-paid trip to attend the meeting and earn more about the latest industry advances.
For a list of the first annual Technologist Travel Award recipients, click here. For photos from the event, click here.
5 Questions with Beny Sherer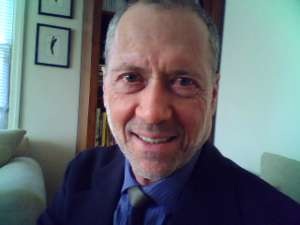 Meet the experienced team and community behind UltraSPECT. This month we introduce you to Beny Sherer who has nearly 40 years of experience in the medical imaging space, including more than 5 years as vice president of operations for UltraSPECT. 
How did you get into the world of healthcare?
My journey started with my education. Being in Israel, most individuals fulfill their time commitment to the army and pursue higher level education afterwards. For me, it was backwards – I completed my education at The Technion – Israel Institute of Technology – prior to joining the army. So, by 1977, I had finished my years in the army and had entered the job market looking for work as an engineer.
Coincidentally, the first job opportunity I accepted was actually in medical imaging – and the rest is history! My career has spanned nearly four decades and I've spent its entire duration working in this industry. Over the years my experiences included exposure to the different worlds within medical imaging, so I was able to grow familiar with CT, MRI, ultrasound and mammography in addition to nuclear medicine.
The majority of my career in imaging was initially in the production line, which then evolved into a role as an engineering manager. After some time in that role, I eventually joined the R&D department of a company for the development of a CT scanner. Once the scanner had been introduced to market, the company's vice president – perhaps after analyzing my strengths and skillset – requested that I enter another department within the company. This, in turn, led me to the line of work that I would specialize in to this day: customer support.
Tell us about your journey to UltraSPECT and your current role.
Approximately five years ago, as I was looking to begin a new chapter in my career, a mutual colleague introduced me to Yossi. I then learned about UltraSPECT and, almost instantly, I became a fan of the company's technology. Through discussions with Yossi, I also began to identify opportunities to improve UltraSPECT's customer support. For example, customer service representatives were originally flying to onsite locations to handle installations. After they had completed their tasks, however, the applications people would then have to fly out to the same sites to manage application. I immediately envisioned ways to convert certain processes into remote work for greater overall efficiencies and cost-effectiveness.
After joining the UltraSPECT team, I began implementing these changes, and today, I'm the VP of operations, which means everything that happens after a sale is made is my territory. I'm essentially the primary caretaker of our customers, and it's a role that I thoroughly enjoy! Beginning with installation and following through with everything from training to support and beyond – I am here to make sure everything is running smoothly.
What are some of the more rewarding aspects of your work?
I'd say the most rewarding part is having more than 400 customers across the country and never meeting someone who didn't like having the UltraSPECT solution. Everyone who has ever decided to tap into our technology has eventually expressed not being able to do without it! Our customers rarely experience any issues with our system, which is simply a workhorse – but there will always be the occasional storm, flood or other natural disaster. In those scenarios, the call for help is instant: "Beny, you have to save us!"
Such reactions really convey to us how well our customers have taken to our solutions, which is a great feeling. Additionally, you have to think about these situations in the context of cardiology, with heart-related matters that can make for a high-pressure and demanding environment. So, if a clinic is down or unable to scan for even a day, we're talking about a significant loss in revenue right away.
So, I take pride in guaranteeing a 48-hour turnaround, ideally resolving as much as possible in 24 hours. We know it's critical for a facility's uptime to be as close to 100% as possible, and overall it's rewarding to see that our efforts to take care of our customers have made their mark – and we have their trust and sense of partnership.
What do you think the future holds for UltraSPECT?
Our technology has evolved over the years and will continue to do so. We've reduced scan times significantly and enabled half-dose imaging, today providing up to, quarter-time scans or both half-time, half-dose exams. Increasing efficiency, lowering dose and enhancing patient comfort all in one shot. In today's healthcare environment with increased patient engagement, radiation dose awareness already has and will continue to play a significant role in our future. The increase in demands from patients for lower dose will continue to move the market towards this needed change. .
The future also has potential opportunities for us to branch out to other modalities with our solutions. There is also the potential for the incorporation of attenuation correction, as well as establishing techniques for the use of CT scanners and nuclear medicine combined. No matter how you look at it, we see a bright future.
As the holiday season has arrived, what do you enjoy most about this time of year?
As I've mentioned previously, we tend to have really wonderful relationships with our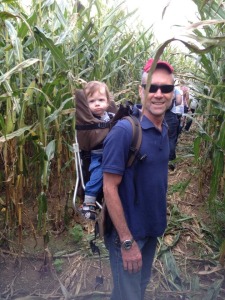 customers. So, there's something remarkable and funny that I get to experience every holiday season. In most cases, it's the vendor organizations that take this time of year to make sure they send gifts to their customers in celebration of the holidays and as a token of appreciation for their business.
At UltraSPECT, I've dedicated myself to being there for all customers' needs and have always backed up my promise of 24/7 availability. Still, imagine my surprise whenever this season comes around and it's actually my office that winds up bombarded with gifts, fruit baskets and holiday packages – from our customers! It's definitely a little bit backwards for a customer to be sending me gifts, but I appreciate it more than anything, and value my customers and the relationships we have established.